My online communities are getting me through this quarantine.
I'm a part of tons of online message boards and groups. As someone who spent most of their time alone and indoors before the pandemic, I have unconventional ways of finding social interaction.
Scrolling through my phone, I notice different parts of the Internet reacting to the coronavirus in their own ways.  Through cathartic jokes, and community support, communities across the Internet are taking comfort in one another.
The queer and polyamorous communities are collectively mourning over the state of their Google Calendars.
Only a month ago, my polyamorous forums were focused on metamour drama and the ethics (or lack thereof) of unicorn hunting.  Three weeks ago, discussion shifted to the safety of attending play parties.
Now, anyone who even suggests seeing a partner that they don't live with shamed for risking the lives of others.
People are understandably shaken. Some share funny comments and memes about thriving and blossoming long-distance relationships under shelter-at-home conditions, while others lament in lengthy posts about the forced separation of their families and polycules.
Nobody in the poly community is thrilled about social distancing.
The gaming community is relatively less stressed. We are well prepared for long stretches indoors.
I have seen more than one gamer say something along the lines of: well, a forced quarantine sucks, but at least it lands around the release of some quality video games.
Gamers across the world have been waiting for the release of both DOOM Eternal and Animal Crossing for years. Shelter-in-place could not have come at a better time.  The fandoms have a mutual respect for one another, and it translates into quality memes.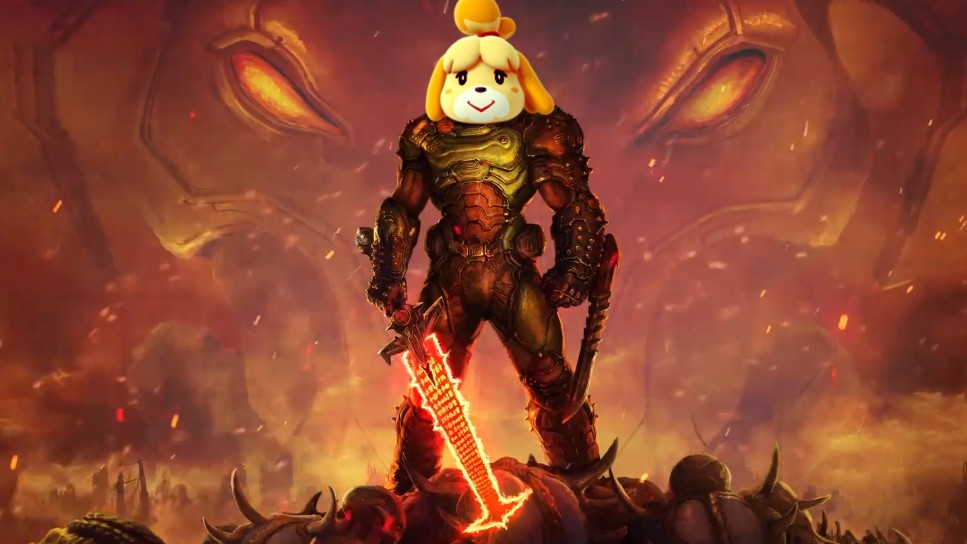 Gender is suspended during the quarantine: you're either Animal Crossing or DOOM Eternal.
I have been playing DOOM since the release of its fourth installment in 2016. The trans boy in me has always love first-person shooters and horror games. The Internet has suspended gender during the quarantine: you are either DOOM Eternal or Animal Crossing.
Every one of my boyfriends has been an avid video game player.  My first boyfriend and I played Dead Space 2 on the floor in my parent's living room. We weren't allowed to go up to my room.   The second made glorified compilation videos of people making crazy shots in Call of Duty.  He even got an Assassin's Creed tattoo for me. I watched my college boyfriend play FIFA, and the one after him play Bioshock.
Video games are my love language.
My current partner and I have wildly different personalities. She is very Animal Crossing. She has spent half of this quarantine working on her island. I watched her spend three hours editing the pattern on a hat, only to decide not to wear it.
When I met a guy on a dating website who shared my love for DOOM, she encouraged me to hang out with him as much as possible. Maybe she wants me to be happy and fulfilled.  Or, maybe she wants a little break from watching me play, narrating myself.  I'm sure it's at least one of those things.
When COVID-19 hit, my newfound friend and I had only had a couple video game dates.  I settled into quarantine life with my nesting partner, in the apartment where we both have lived for two years.  I am glad that we are together and safe. 
He is self-isolating alone.  I check in with him often, and I am happy he isn't showing symptoms, but I wish I could go see him.  Regularly, I remind him to stay inside.
DOOM's release, somewhat annoyingly, came about a week after the first case was diagnosed in our city.
The pandemic became scarier than a minor inconvenience.  Even as introverted as I am, I started to miss leaving the house. 
I spent a few days being sad and scared.  I read the news all day. The grief I feel for the state of the world is overwhelming.  Leaving the house and taking public transit to his apartment would risk my health and the wellbeing of others, especially my loving partner.
He texted me yesterday to tell me he finished the game alone.
My nesting partner and I play games, side by side. Check in on your partners and family members who live alone. Call your friends when you visit their islands in Animal Crossing. Play DOOM with friends online. Until this nightmare ends, all we can do is sit in our houses, wash our hands, and play video games.
Wash your controllers, too.